08 Jul 2005 Little Squirt And Little Squirt Too

I was on leave and my wife suggested that I should take Little Squirt Too out on the water. Not one to turn down a opportunity I jumped at the chance. We had bought a life jacket to fit my four year old daughter Jeanette, and Vivian my mother in law was planning on going out with me as well. It was the perfect arrangement for Jeanette's first time out in my boat. She had been out in boats before. Once in Newfoundland on a whale tour and once on a excursion on the Ottawa River on a commercial boat, but never on a boat as small as mine. It was going to be interesting.
We started the trip in the morning with me getting everything ready to go. When I was getting the engines out of the shed something flew into my ear and bit me there. The whole right side of my head just throbbed with pain for about a hour, but there was no swelling or allergic reaction so I just continued setting up to go. We loaded up the boat and got Jeanette into the car seat then we were off. We drove down to the Nepean Yaught club where I had a permit to use the boat launch. We all went to the club for a last minute rest room break then I put Little Squirt Too in the water and tied her up with my newly installed Cleats. I was not taking Jeanette out in the boat unless I could tie it up. Looking after Jeanette and having one person holding the boat in place was not practicle.
We left the launch area using the electric engine. Jeanette is afraid of the noise of most gas engines so I decided that barring problems with the battery I would run on the trolling motor alone for her first trip, and give her a chance to get used to being on the boat. We cruised westward for a while, and decided to stop for lunch. We still have a small leak around the box I built by the aft cabin bulkhead. There is not a lot of water, but it will be a problem if I want to sleep out overnight in the boat. My father in law Frank had made up some pita bread wraps which we gobbled up. We then continued on our way once we had eaten. After about a hour from leaving dock we stopped to check the batteries. They were at 54%. Something was very wrong. They should have been at close to 75% as they should have run at full power for 4 hours. Either one of the batteries were not hooked up properly or something was causing the batteries to drain faster then they should. Checking it out was not practical. I would have to remove the wiring from the batteries, and I do not like working around them with Jeanette there. She likes to help, and the batteries kick out a lot of current.
I asked Jeanette if she would let me start the gas engine or did she want to go home. She looked very serious for a moment then said she wanted to go home. I decided I was going to start the gas engine anyway. It must have respected Jeanette's wishes more then me because it refused to start. We headed back on the electric.
On the way back I mentioned to Vivian that we had not taken any pictures despite the fact we had taken the camera along. We quickly took a few pictures since it was Jeanette's first boat trip and a special occasion.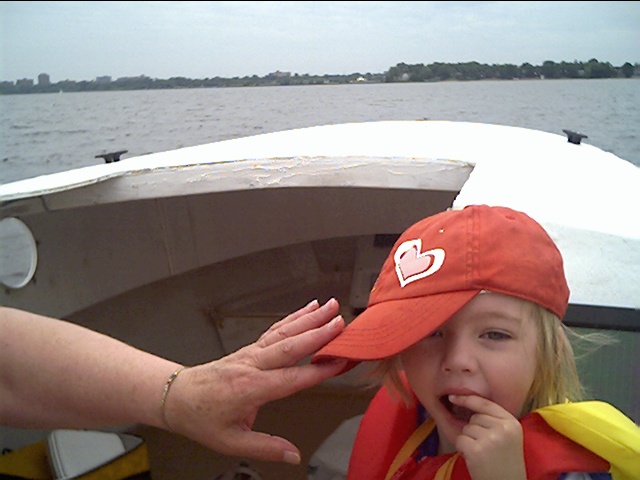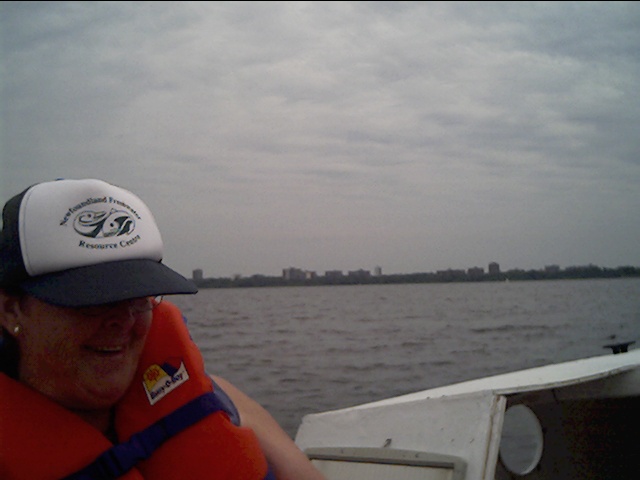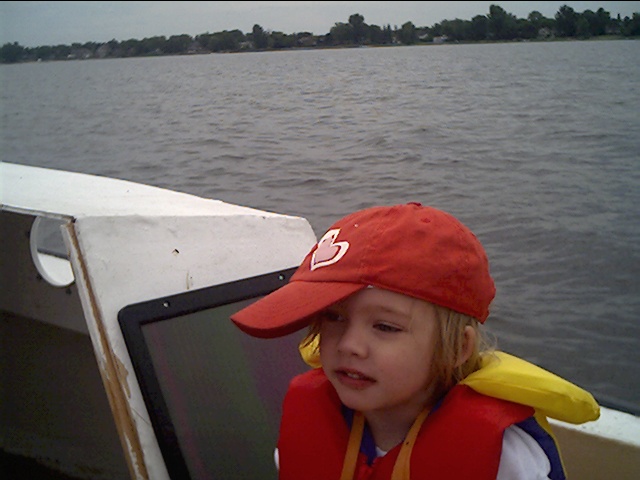 We continued on our way back, and I decided it was time for the first mate to earn her keep. I sat her by the trolling motor and let her steer. She steered a nice steady course, but had a nasty tendency of staring at the engine instead of where we were going.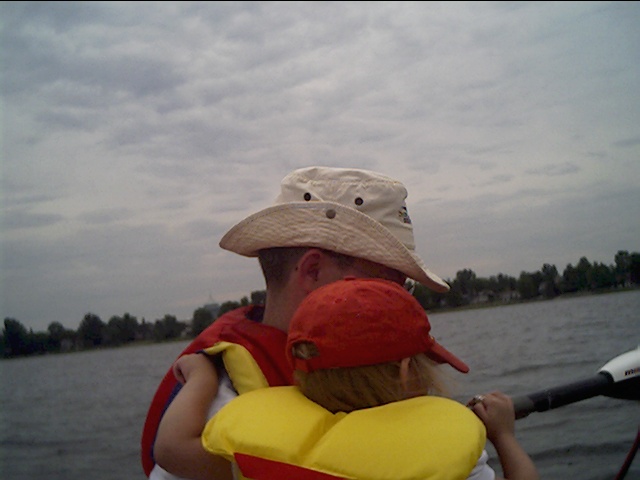 She also did not appreciate daddy's help and occasionally tried to make me let go of the engine. I felt she was fine for open water but once we reached the marina I would steer without her help. She disagreed. I'm sorry to say she spent the rest of the trip kneeling on the floor of the cabin sobbing onto one of the seats because she did not get her way. Jeanette does not sob quietly. We got some very strange looks from several people who were working on their boats in the marina. I guess at one point she forgot I was the reason she was upset because she decided she needed daddy to pick her up and cuddle her till she stopped sobbing. The moment she picked for this was just as we were making our approach to the jetty which probably wasn't the best time for me to be cuddling Jeanette. There was no other boats about so I slapped the engine in reverse till we were stopped. I then held Jeanette until she stopped crying. She seemed to have forgotten the steering debate at that point and was in a much better mood. We tied up to the jetty and offloaded. The trip was officially over.