11 Jul 2005 Off Again

Well I was still on leave and my wife and her parents had no plans on going anywhere so once again I decided to take Little Squirt Too, my mother-in-law and little girl out on the Ottawa River. We loaded up the boat and got ready to leave. Once Jeanette was in her car seat and Vivian in the passenger seat off we went. We got about half way to the marina when Jeanette started acting tired and cranky. Then she started to cry and howl. We went a little way further until we found a place to turn around and I took her home again. We left her with her mother then myself and Vivian started for the marina again.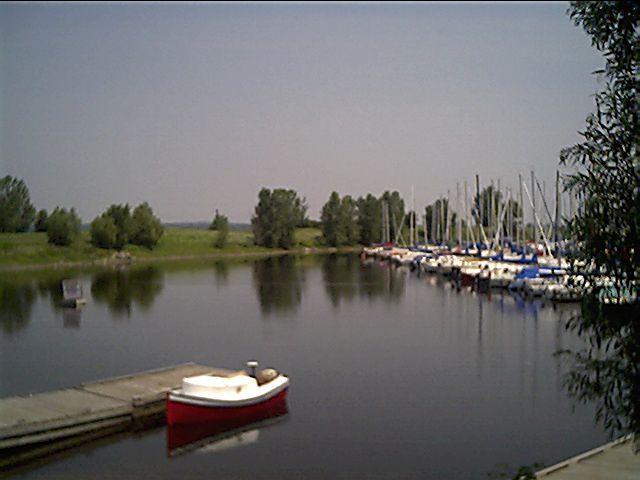 Once we reached the marina I put Little Squirt Too in the water and we were off. I used the electric to exit the marina and started the gas engine without any trouble. It ran like a dream. I don't think Little Squirt Too has ever gone faster. We went in a westerly direction until we were just past Shirley's Bay which is the spot where I had first tried to launch Little Squirt Too, but could not because of the shallow water. I should point out that it was a very hot day. The temperature was in the 30's however it felt like the 40's because of the humidity. We were suffering from the heat. We decided to head back after stopping just past Shirley's Bay for lunch and to refuel the engine.
Since the last trip I had done some work trying to find the leak. I did some repairs but the boat was still leaking. At one point Vivian suggested selling the boat for whatever I could get. I believe my response was that next she would suggest I sell Jeanette too since she had given us some trouble that day too. If you can't take a few problems then you should not have anything to do with home built boats. You don't have a team of experts testing every aspect of the design before the model is manufactured.
We got back to the marina, and I took the boat out of the water. Once we got home Jeanette seemed to be in a much better mood. She said she wanted to go out in the boat. I looked at the four year old and told her next time.