09 SEPTEMBER 2005 MESSABOUT IN KINGSTON
I had heard about the messabout from Duckworks magazine and had alsways hoped to go. I had often read about the messabouts which occurred in with the Back Yard Yaught Builders Club which speciallizes in Stevenson's boats, but they always met too far away for me to go. Here was a gathering which would take place near enough to us to make the trip affordable. I had emailed Bruce Hector so he would know I was coming. It was 12:33, and now we were ready to go. I packed up the boat and car, strapped Jeanette in her car seat then we were ready. Nope. We forgot a couple of drinks Charlotte my lovely wife had left in the freezer. By the time we got back they would have been frozen solid. So now we have the drinks and are starting off again. We were just pulling out of the driveway when Charlotte told me we had forgot the Cancorder. Stop car, Run back. Here we go again.
12:36 Well we finally go away. I drove the whole way. Usually Charlotte drives, however this time it was decided I would since I had more familiarity with the trailer. We arrived at our hotel at 15:38. The hotel had the interesting name of the Welcome Traveler Motel. The first problem we had to address was the boat. I needed something to put under the wheels to keep it from moving. One of the staff let me take bricks out of their garden for this. I though this to be very generous. We decided to go to the park before supper to touch base and find out the agenda. The schedule of events on the web had no times listed for any of the events.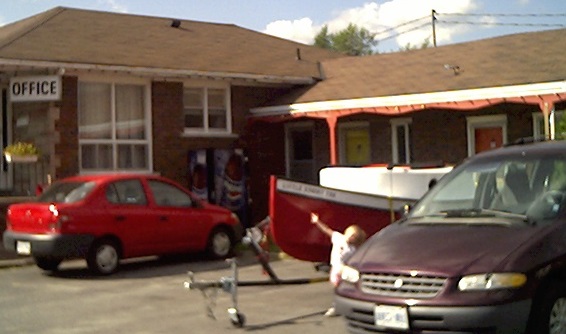 When we arrived at the park we got out day pass for the weekend and went to the dock. At first there didn't seem to be anyone from the messabout around, but we saw a strange looking boat in at the docks which turned out to belong to Stephon Guterman. He had driven up with his Bolger Watervan. He offered a beer which I am forbidden by law to turn down, and we chatted for awhile. He had built his boat with the help of a partner named George Mindos who would be arriving the next day. He didn't know any more of what was going on then we did, but he did suggest that we could bring the boat down that evening and leave it there at the docks. There was plenty of room and there was no charge. This seemed like a good plan.
We had a lovley supper at a little pub in Kinston where I had a excellent feed of fish and chips. Jeanett as was her habit refused to eat anything. At four she is priceless except at meal time where my little four year old is often a pain.
We went back to the event where we met more people, had a lovely wine and cheese pot luch off of the back of Bruce's truck. I've never been to a wine and cheese tailgate party. I was unusual, but fun. The following pictures were taken on saturday during the actual event.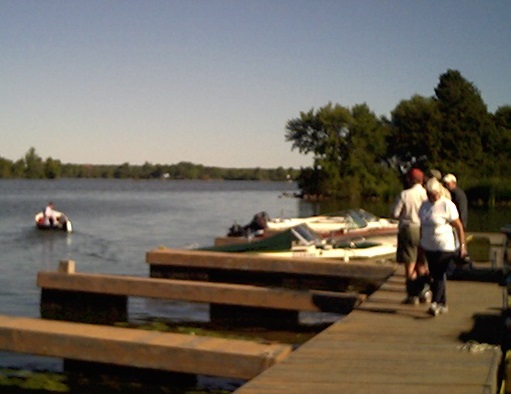 Below is my boat with Stephon Guterman, and George Mindos Bolger Watervan. We tried to think of what it looked like. We came up with everything from a shuttle off of the Enterprise to a submarine. It is a amzing boat though.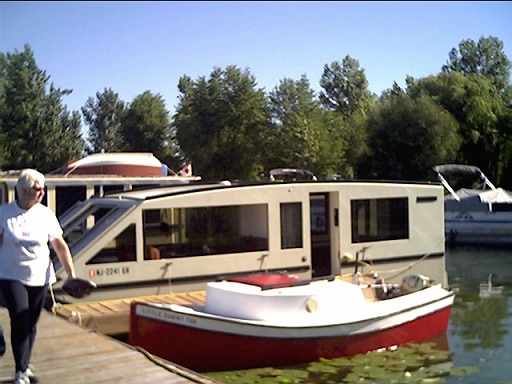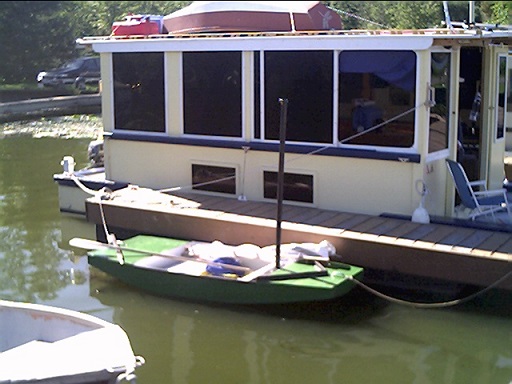 Drew Neven came down with a single sheet skifff, and a wackie lassie which he made clear anyone could use when they wished. My daughter thought the skiff was the boat from dora the explorer. In her mind it was her boat when we went out for a ride. I mentioned this to Drew who told me I could have the boat for what was in my wallet. I told him he definitely wasn't going to sell the boat for what I usually carried in my wallet.
Drew's kids and Jeanette explore the Little Squirt Too. Jeanette is the one staring out the window which she seems to like to do a lot.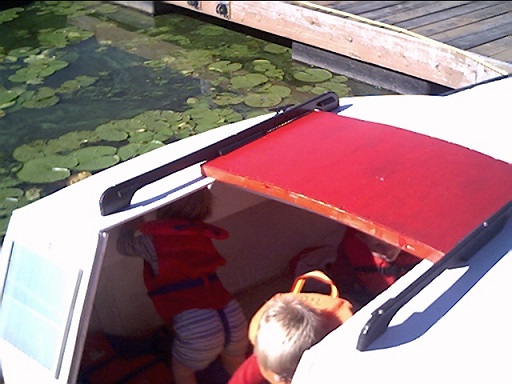 There was a small houseboat permanently achored a ways away. You can see the owner Jack standing on the platform. When we first arrived we thought it was Paul McLellan's house boat. When the house boat showed up at the dock and this shanty was still anchored where it had always been we knew we were wrong. We made many trips to the shanty where Jack welcomed us all and showed us the ingenious job he did in the construction of his floating cabin.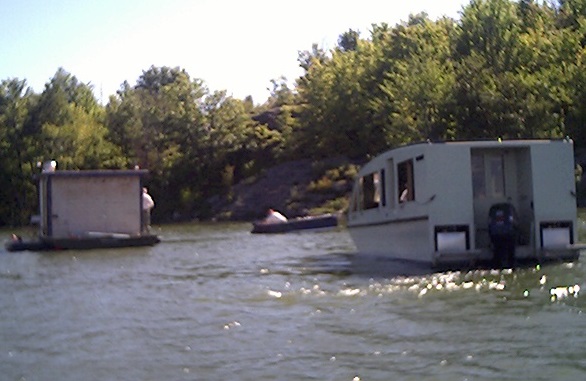 Bruce decided to take a mouseboat for a spin. Everyone jumped for the cameras. Bruce is a fairly big man, and the mouse is a extremely small boat. Things went well however.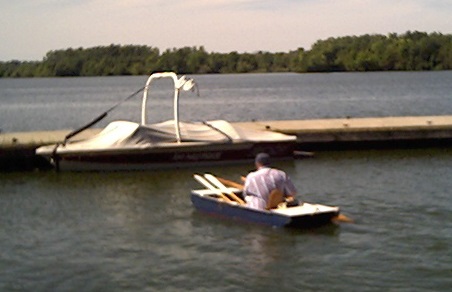 Jeanette on a cruise. In the distance is Andrew Butchart in his CSD Piroque.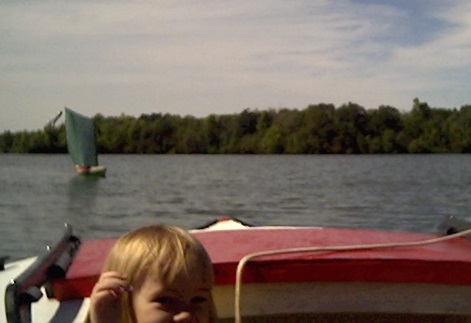 In the next picture is Susan Davis. She had a accident before the messabout with her single handed schooner where the daggerboard had gotten jammed. She had to get a crane to get her out and had damaged the daggerboard box. She didn't launch until the next day as we were leaving, so I missing seeing it in action. I was looking forward to seeing her boat on the water with the sails up. I met it could really move.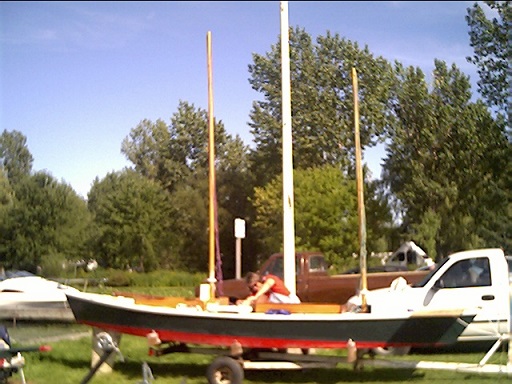 We went for a spin on Paul McLellan's Bolger Houseboat.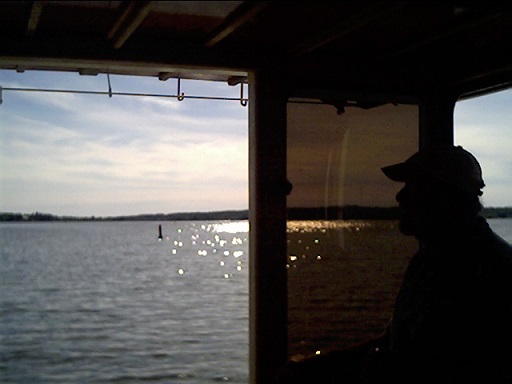 Is Jeanette looking out the window or staring at her reflection. The reflection part is more likely.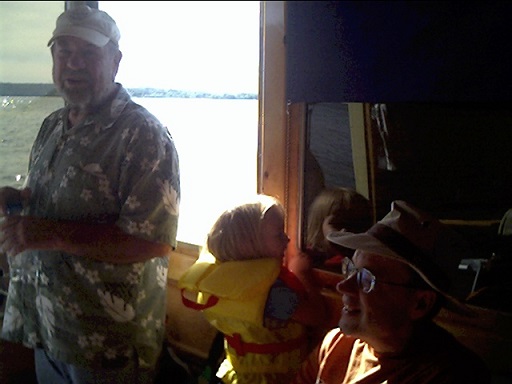 Jeanette and a couple of children playing on the boat launch.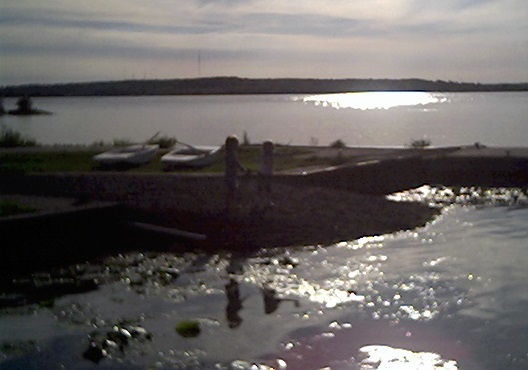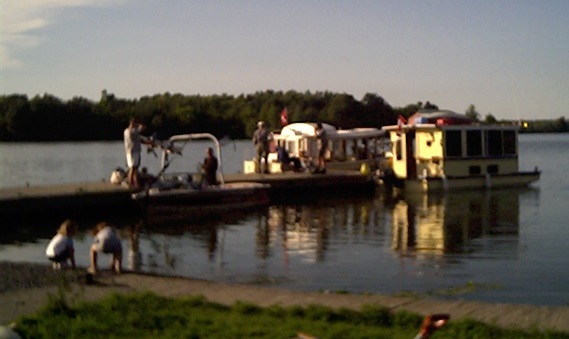 That night we had a pot luch dinner. There was some confustion when Bruce changed the time of the event from 6pm to 7pm, and some people were not told. Including me and Charlotte. There was lots of boat talk and a good time was had by all.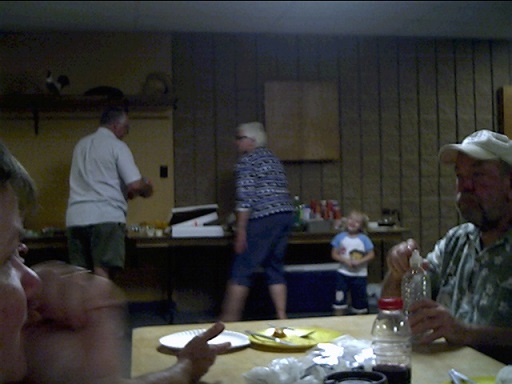 Myself and Jeanette went on one last cruise before taking the boat out of the water and heading back to Ottawa. I had to burn some gas to keep the engine from leaking in the car. Jeanette is afraid of my gas engine which is quite loud. She spent the whole time in the cabin with her hands over her ears asking me to turn in off. Once I though I had burned sufficent gas I switched to electric and she came out.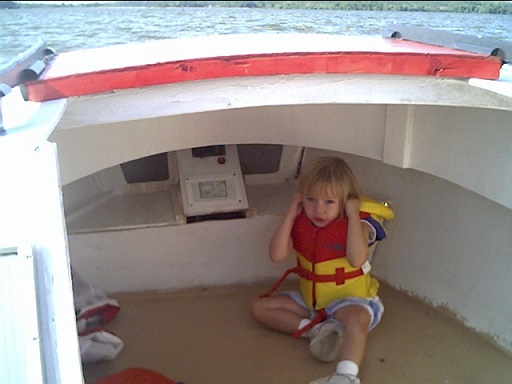 There's Paul's Houseboat.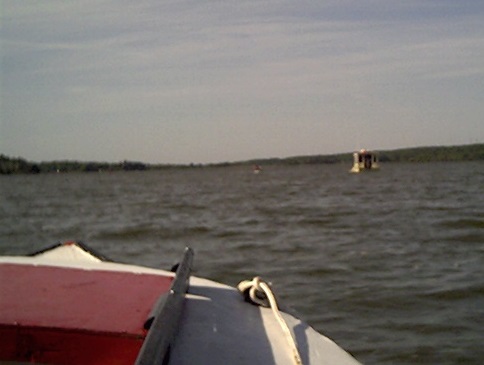 The first mate ensures the way is clear.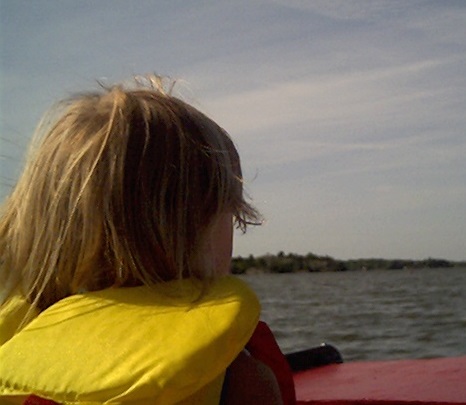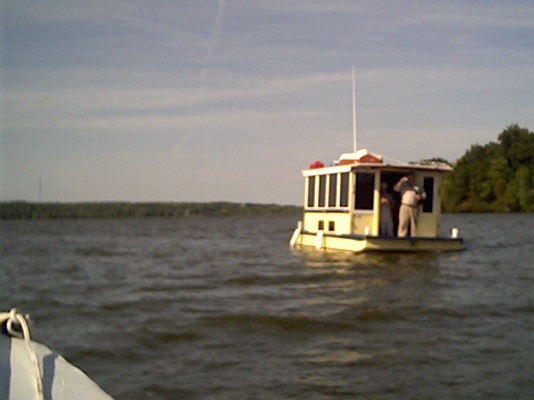 The boat is loaded and we're ready to go.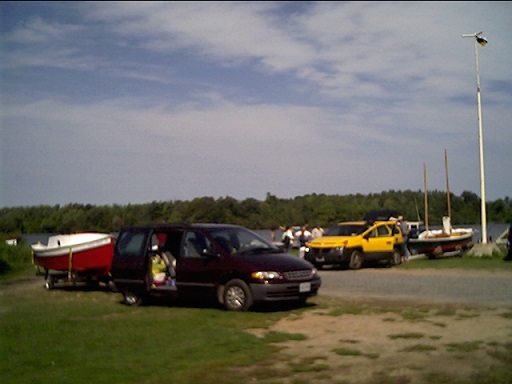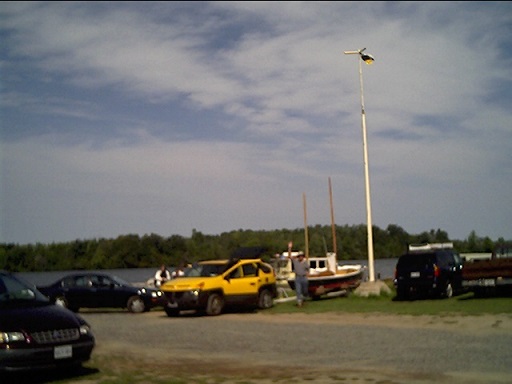 Well what did I think of the messabout. I had a ball. Of you read this Bruce thank you for making a event which was so much fun and so memorable. The only sad thing about the whole event was the news that you will be holding it too far away next year for me to attend. I will however god willing be there the year after that.
Here are a bunch of pictures I got off of one of the yahoo bolger groups.