21 August 2005 – A Lunch on the Rideau Canal
I decided that today I would go on a day cruise. I decided not to take Jeanette for two reasons. Reason one was that I planned on being gone all day, and Jeanette usually started to get antsy after a couple of hours. Reason two was that I wanted to go down as far as the southern locks at Manoteck. In order to get there in a reasonable amount of time I needed to use the gas engine which Jeanette was afraid of. I left the dock about 10:58 and headed on my was.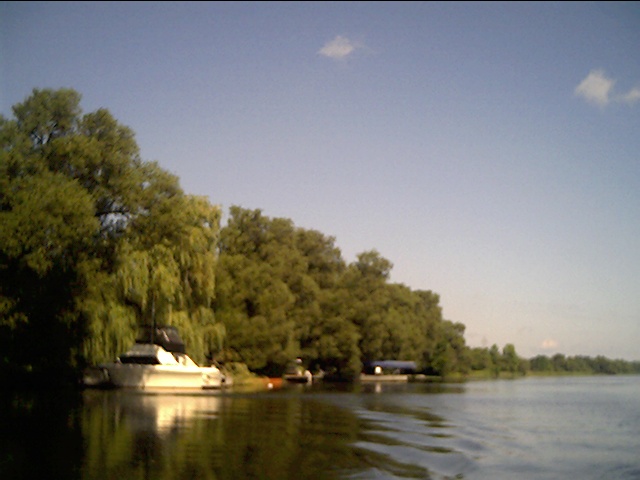 On my 3-in-1 I always used to attach the anchor to the front of the boat and leave the anchor in the cockpit to throw over the side in case of emergency. I decided to do this today with the Pocket Crusier. I stopped about 11:28 and set this up and was on my way again by 11:32.
11:37 Noticed the rope from the anchor dragging in the water. Had to stop to pull it back into the boat.
11:54 I saw a nice little park ahead in the distance. Decided it would be a nice place to stop for lunch. Tied up along side and took a little walk to see where I was. I was back in Eccoland Park. When I stopped to fix the anchor rope the boat must have gotten turned around, and I went back the way I had come. I guess my boat needs a compass. The wake from a boat with a water skier kept knocking my boat around so I decided to continue on my way.
12:14 Ran out of gas. While I was stopped I opened up my tookbox and got a small compass out of it. This time I was going South.
12:20 Off again.
I saw the lock off in the distance and took a quick picture of it.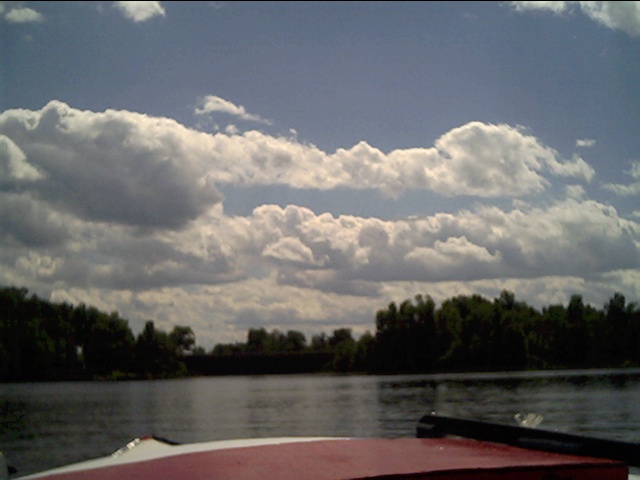 13:15 Stopped a small dock by locks area for lunch. I decided to cook my lunch ashore. The pan I bought to cook with was too large for my stove. Will have to bring a smaller one for next time.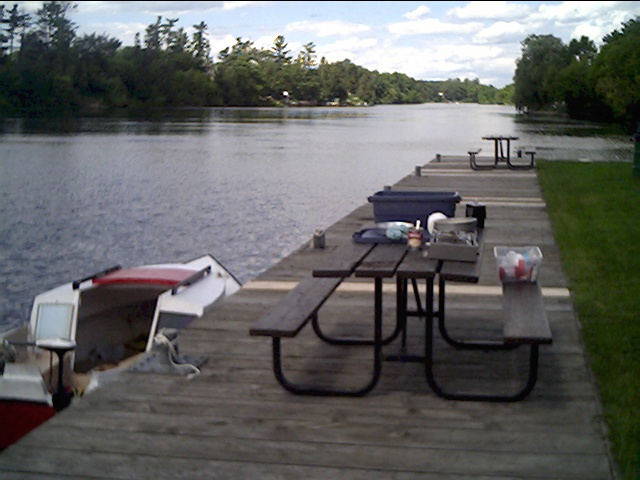 I took a walk around the area. Here is a picture of the actual locks where the boats would go through.
13:58 Went on my way again.
14:32 Stopped to refuel
14:35 Off Again
15:05 Passed area I had launched from originally. I decided to stretch the cruise out a little by going on to the norther locks. Once there I turned off the gas engine and switched to electric. I was tired of the noise. Maybe Jeanette has a point for hating that engine.
Headed back to the lauch which was only a short trip. Once there I loaded the boat onto the trailer without incident and headed home.