21-Aug-02 ENGINE TEST AT PWR 5 (FULL)

Total Time=2 Hours 6 Minutes
Avg Speed (Aprox)= 6 KM/Hour 3.7 Miles/Hour 3.24 Knots
Total Distance Aprox.= 12 KM

Today I decided to find out what I could get from may trolling motor setup. I was going to hook up the solar cell, and put the oars on the boat. (I won't go out in the boat without two sources of locomotion). I was then going to go as far as I could as fast as I could till the battery was at about 50% then I was going to come back at the same speed. I would find out how far and how fast I could go with the trolling motor at full power. I was also going to test out the new SiPix Style Cam digital camera I had bought at Radio Shack. It had cost be only $50 and I would find out what it could do.

It was a beautiful day with a very light wind and very few clouds. I was going after supper so I really had to hurry to get setup and on the water. I waited at the dock for another boat that was coming back to be taken out of the water then talked to a small family that was on the dock. I had met the father before because he was telling his wife how I had built the boat myself. I told them they would never find another boat like mine around. I then explained the system I had including how the boat could be rowed, sailed, or motored, and how the solar cell could recharge the system on its own.

1849: Left dock. Power was at 12.64v. I was so wrapped up with talking to the family and rushing to the water I had forgotten to put on my lifejacket. Gave myself a verbal talking too. Safety is too important when soloing. I put on the jacket.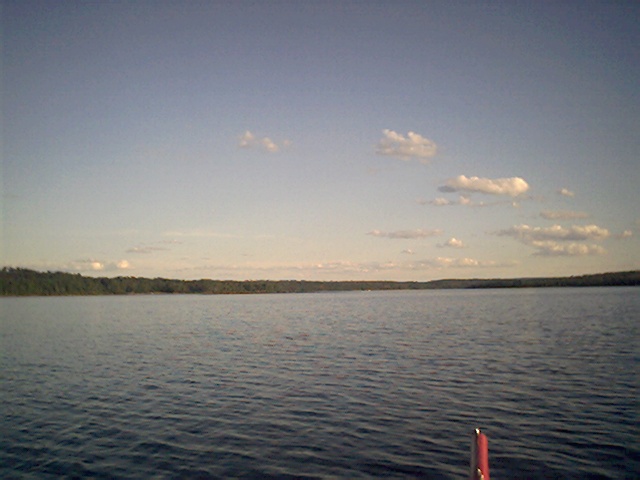 I think I'll Take a picture before going to far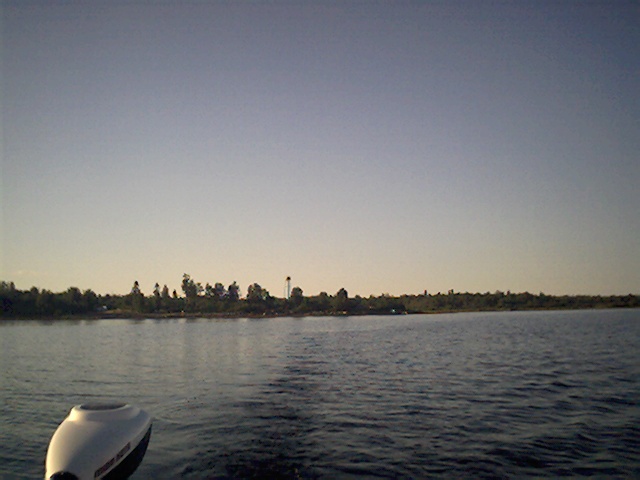 Looking back at Glenwood.




View of Gander Off Flow Check out the Solar Panel on Little Squirt.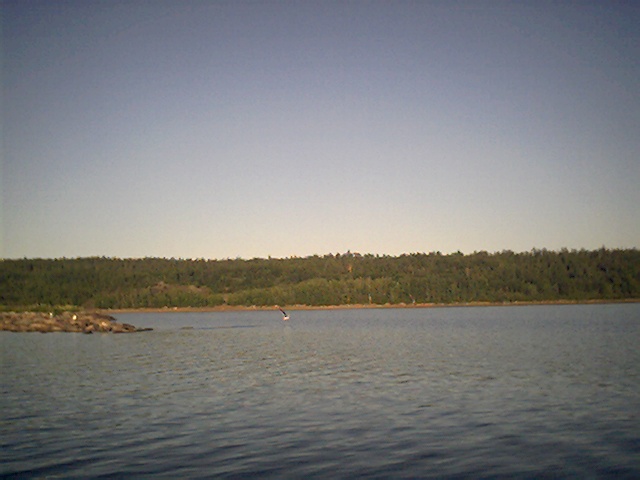 Passing tiny island I use as marker. Tried to sneak up on birds using trolling motor. Scared them when I was taking the camera out of the tool box.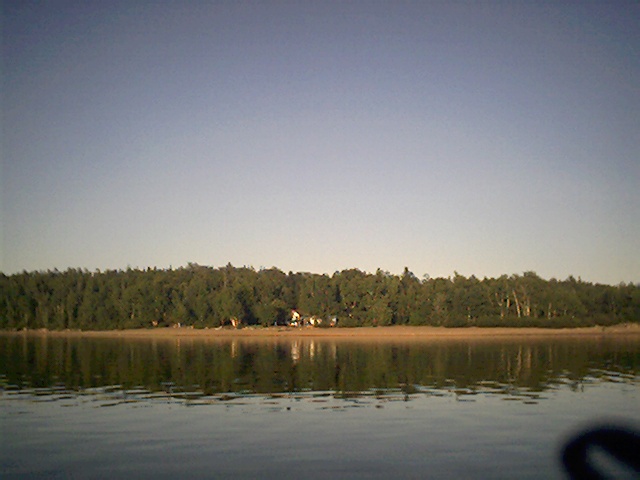 1906: Passed Glenwood Park.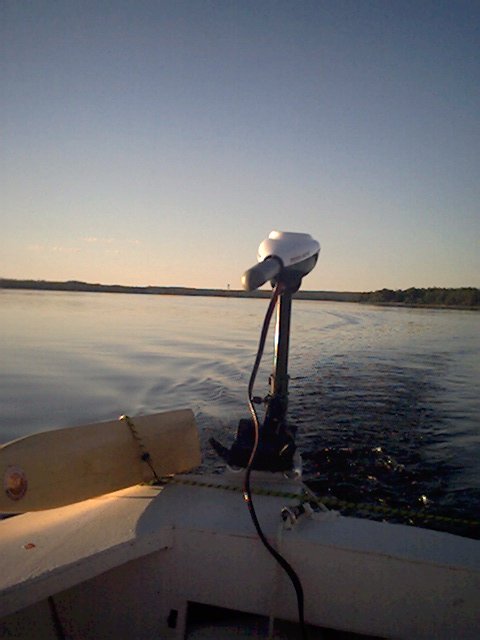 1920: The engine has been running at full for 30 minutes. Voltage is at 12.47v which is about 75% to 100% power


I met a man in a canoe who stopped and signalled me to stop. He wanted to know if I had caught any fish. I told him I was only out to be on the water and I was not fishing. We both continued on our way.

1947: I saw a large plane flying far above me. I wondered if any of the passengers could see little old me down here in my 10ft boat.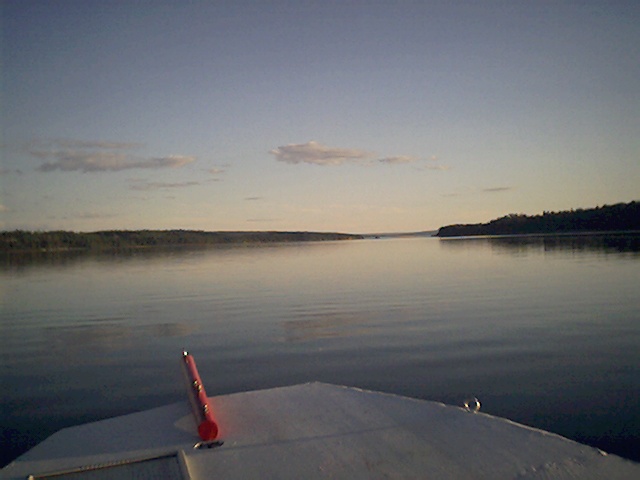 The rock slightly to the right of the center of the picture is what I use as a marker. When I reach it I'm at the opening to Gander Lake.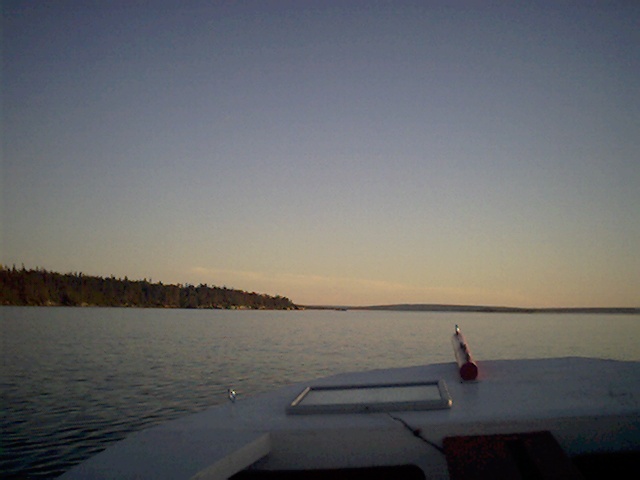 Almost at opening to Gander Lake. It is getting dark.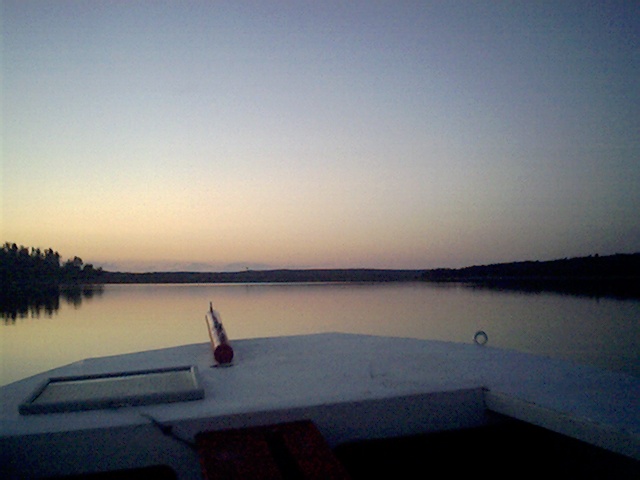 Heading Back


1950: Reached opening to Gander Lake. I had also been running the engine for 1 hour at full so it was time to check the battery. The voltage was 12.27% which was 50% to 75%. I should have continued on till I was closer to 50% but I realized the sun was nearly gone and unless I wanted to boat in the dark I had better be getting back.

2020: Voltage is now at 12.01V or about 25%. It would have been pretty dark at this point but we had a full moon. It was really beautiful hanging over the lake.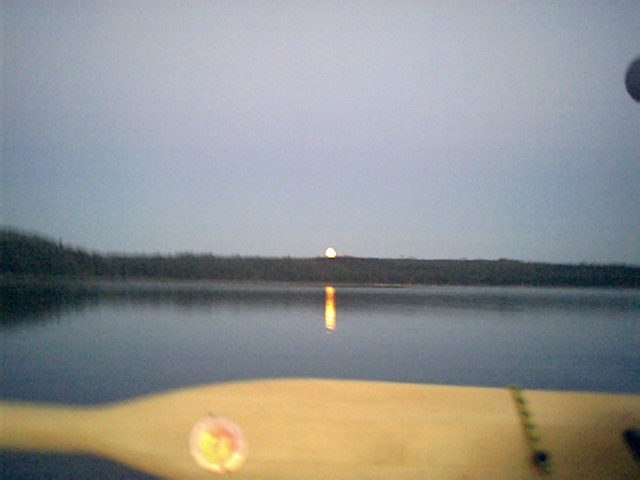 Full moon over lake.


2055: Finally reached the dock. I rushed to get the boat out of the water because I was so late and was afraid the wife might be worried about me. I checked the voltage after I got home and it was 11.94v. This is slightly below 25% charge. I am not going to plug it into the charger. I will plug in the solar cell in the morning and find out how long it will take the solar charger to recharge the system by itself.

I took a few pictures on this trip that came out fine, but I had problems uploading. I will have them up in the next day or so.