---
FIBREGLASS COATING



This is a basic overview on the fibreglass coating which is used on many home built boats. I have used pictures from stevenson's projects website. Once the surface of the boat is prepared a cloth is laid over the area and smoothed.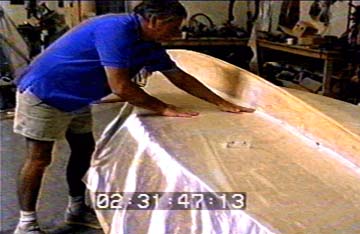 This cloth is generally fibreglass although you can get other materials such as kevlar. After that the Fibreglass Resin is allied.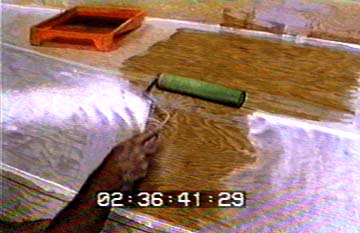 There are three types of fibreglass resin you can use. They are;



POLYESTER-

This was a very popular coating with boatbuilders for quite a while. It is cheap and easy to use. DO NOT USE IT. Polyester allows water to pass through it. This water becomes trapped between the fibreglass coating and the wood. This water will cause wood rot, and the fibreglass coating to delaminate.



VINYLESTER-

This coating is the one recommended by the Stevenson's in the weekender video. It is almost identical to Epoxy except it is more UV resistant. It is a commercial product however, and can be difficult for a home boatbuilder to get.



EPOXY-

Epoxy is expensive, but is used by most home boatbuilders. It is less UV resistant but you will be painting over it anyway. Be carefull with epoxy. Many people have alergic reactions. Wear a mask and gloves, and use it in a well ventilated area.


---
NOTES:
---
COVER EVERYTHING OR NOT


Many people glass the boat on the bottum and then glass or epoxy everywhere else. There is quite a dispute going on concerning this practice. Here are the two sides. The people who cover all surfaces with epoxy state that it protects the entire wood surface. The people who are against this practice however state that no epoxy job no matter how carefull is perfect. There will be small even microscopic holes in the epoxy surface where water can get through. Once socked into the wood the water can not dry out of the wood because it is sealed in epoxy. They suggest that it is better to only put the epoxy on the wood where it is necessary. For example if you epoxy the outside of the boat and not the inside any moisture soaked into the wood from the outside can dry out into the inside through the uncoated side. I am assuming that paint will allow water vapour through. I have not made up my mind on which side is right but due to the dispute and the cost of epoxy I will only be coating my boat on the outer hull and deck with tape on the keel bottum and seams inside.


---
LINKS:
---
WEST SYSTEM EPOXY HOME PAGE

RAKA EXPOXY

Fibre Glast

FiberLay-This site has a great how to section with lots of information about using various fiberglass related materials.